It's Friday!
I'm ready for the weekend, but it's going to be a busy one.
I'm also feeling on the verge of some sort of crying-fit....which I'm not sure why.
I'm feeling over-whelmed for no particular reason what so ever, and people are annoying the crap out of me- just in their mere existence.
I'm praying this feeling passes quickly- cause it's not who I am in general.
Dang hormones!
I betcha you're feeling really jealous of my husband right about now, huh? :)
Just keepin' it real.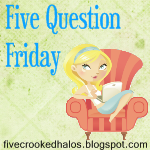 1. What is your favorite fall family tradition?
We love to carve pumpkins together. It's a fun night, and Dave really gets into helping the boys.
We also usually get a family picture taken during this time of year. We just love fall colors, and they accent the walls of our house beautifully!
2. If money weren't an issue, how many kids would you have?
I'd probably be done at 3 biological kids. I really don't want to put my body through any more pregnancies.
Adoption? Sure...I'd be up for 2 more. I would love to help out a sibling set. I know they are harder to place, and there's a need there. So, that's what I would do.
3. If you were to get a tattoo, what would it be and where would you put it?
I have a burn. On the inside of my left ankle.
How'd I get a burn there?
Riding on the back of a crotch rocket- and my ankle hit the blazing hot muffler.
There's still a scar- even though the burn is over 15 years old.
So, I'd get a cute little daisy to cover it. I once saw a daisy tattoo drawn out- it was small, with rounded edges, and it was very sweet. The petals were almost translucent, and it wasn't trashy at all.
I actually almost got it- but by that time, I had already been dating Dave...and he STRONGLY recommended me against it.
So, I obliged him....
4. What condiment is a must in your house?
That's a cross between ketchup and maple syrup.
Ketchup needs to go on anything savory.
Maple syrup is a must for all breakfast foods. Breakfast doesn't exist without maple syrup. I'm not talking about the flavored/colored corn syrup either. I'm talking 100% natural- out-of-the-tree-tap maple syrup. Mmmmm, good.
5.

How did your spouse/fiance propose?
We went to the UP for the weekend (Michigander talk for the Upper Peninsula). I was wondering if he was going to propose- it was my birthday weekend, after all....but my dad had already gone up north to the cabins, and I knew he wouldn't propose without asking my dad first.
So, we're up there- the foliage is BREATHTAKING. We do all the touristy things, hit all the beauty spots...there were PLENTY of perfect opportunities at these kodak spots to pop the question.
Nada.
All day, nada.
Finally, we're on our way back to the bed and breakfast- talking about what to do about dinner. He says, "Before we head out, I need to use the restroom, so let's head up to the room real quick."
Ok.
So, he's in the bathroom....I brush my hair.
He's still in the bathroom.....I reapply some make-up.
He's still in the bathroom....I wonder if he fell in.
He comes out acting a little squirrely, and I ask him if he's ok.
He says, "Sandy Behm, I have something to ask you." He dropped to his knee right then and there and asked me to be his wife.
I said "YES!" right away, and we went to dinner to celebrate.
This is us- after returning to the city. We dropped our things off at his house, and he asked to stop by his parents. He just walked right in and yelled, "Mah, dad! I'm getting married!"
Side note: he did ask my dad for permission to marry me. He had to call him through a neighbor up north, and when he asked, my dad (my precious loving warm-and-fuzzy dad) exclaimed, "TAKE HER! TAKE HER!!! Wait...you know she's head-strong, don't you?"
Thanks, dad. (We won't mentioned who turned into a soprano when he gave his daughter away....ahem.)