1. C. is sick.
2. It's never "just a cold" for an asthmatic child.
3. I'm carrying on two conversations via text right now.
4. One with my friend, Melody and the other with my cousin, Kris.
5. Both are talking about magnesium.
6. Love chemistry!
7. I'm drinking Michigan Maple coffee.
8. If the whole world could drink Michigan Maple coffee, the world would be a better place.
9. You'll remember that I'm also addicted to Amaretto and White Heather coffee.
10. As Homer Simpson would say, "mmmmm, coffee."
Ok, 5QF.
If you want to play along, simply click on the icon below and head over to link up!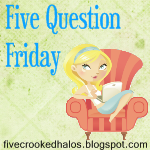 1. Have you ever forgotten your child in a store or at school?
No, thankfully I can say that I haven't. I have forgotten to "watch" my children while at school/church...and they've wondered off....which then results in 3-4 staff members who are looking for my child....but I always remember to leave with them in tow.
2. Where did you go on your very first date? (Like...first first, not first with your spouse or current significant other!)
Oh gosh...I honestly don't remember. And, to me at least, it really doesn't matter. They were all just "means to an end" to find my awesome husband.
3. What's your "silly" fear? (We're not talking water and heights.)
Beetles. I hate beetles.
4. Confrontation: do you cause it, deal with is as it comes, or run far far away?
At some point in my life, I've done all three.
BUT, on a regular basis...I'd have to say I'm a "deal with it as it comes" kind of person. It doesn't scare me in the slightest - and I have no problem holding my ground.
I wish I could also say I have no problem also admitting when I'm wrong....
....grr, stupid pride.
5. Wood floors or carpet?
You know, if I could, I'd do nothing but wood throughout the house. Yes, throughout.
First, I have an asthmatic child. Carpet holds dust, hair, etc.
Also, I'm reading all these books about nutrition and toxins, etc. ALL of them talk about the dangers of plastic in our lives. All of them. The plastics in the fibers of the carpet ... well, the lists kinda scare me.
I just keep reminding myself that we live in a modern society and it's all a continuum, right?