I went out with a great group of ladies last night.
Since we had a late get-together, I ate a taco with my family at dinner time.
Then I met the ladies at 7:30.
I had an adult beverage....my first since ....well, probably since Baby L's conception.
Then...as everyone else ordered entrees, I went straight for the kill.
Twisted chocolate dessert.
So, there I sit...
glass of water,
Hard cider (blueberry...made right here in the Mitten)
and a HUGE dessert.
I enjoyed every bite.
And every drink.
And the ladies I was talking with.
Then- as invoices are being doled out- I got a text from Dave:
"You coming home soon?"
Me: "Yes, soon...."
Him: "45 minutes of straight screaming"
Me: "On my way."
So...thanks to the
sugar rush and caffeine buzz,
I had the stamina to handle Baby L. and her issues.
They are coming in one right after the other.
Then I was awake until 2am...when she woke for a feeding.
Then I laid awake until 4am...
...then as I started to fall asleep, my
stomach started a revolt
due to all the sugar and rich foods.
then the
heartburn
from the cider.
Seriously...
WHEN DID I GET SO OLD?!?!?!?
No regrets, though....
it was so good.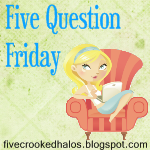 1. What advice would you give a newly married couple?
Focus on the positive. I spent too many days, nights, weeks, months, years...focusing on the negative parts of our relationship, and the negative quirks of my husband that I wanted "changed." If I had only spent those days encouraging him instead of "changing" him, we would have been stronger sooner. But, we're AWESOME now...doesn't get much better than this.
(And I'm the president of his fan club. )
2. Who does more laundry around your house?
It's a pretty even split between Dave and me. He'll grab the dirty hampers as they fill, and throw them in the washer, and sometimes put them in the dryer as well. Otherwise, I'll dry them, fold them and put them away. Then, if there's ironing, I do that too (but only once every 3 years....judging by the size khakis I found at the bottom of the pile last week).
3. What items, if any, do you prefer to buy organic or make yourself?
I prefer to buy as much organic produce as the budget will allow. I try to compensate for it by making our baked goods myself. I especially try to make their lunch treats...but occasionally, I'll purchase Honey Made stuffed cracker as a treat.
Foods that have their own hard shell (oranges, grapefruit, etc), I don't need to purchase organically. But apples and grapes I don't make any exceptions for...organic all the way.
4. What book/TV series would you recommend for a friend on bedrest?
Television: I'm a sucker for Downton Abbey. I also loved Pretty Little Liars because it freaked me out. We love Storm Chasers- particularly because Reed Timmer is from the Mitten (actually about 20 minutes away from where I live now).
Books: I'm a sucker for some easy to read fiction. I enjoy Debbie Maccomber books because she's super easy to read, has fun story lines, some mystery involved, writes series that are easy and fun to follow, and has a strong moral compass. There's a Cedar Cove series that is about 12 books long and will keep you occupied for a few weeks! Good luck, Kristina!
5. So, they say it's Spring now...what does your "spring" look like at this very moment?
Cold. Darn cold.
Snowy.
Blowy snowy.
It's Michigan...so I know not to expect anything different....
but seriously....COME ON!