It's Friday! These summer weeks are starting to fly by!!!
Unlike last summer- which seemed to last for-ev-er.
So far, sanity is still intact....so that's a good thing.
This weekend I'm working, play dates galore, re-potty training a regressing dog (
side note: anyone want a dog? She's cute...not quite potty trained...and pissin' me off - pun intended),
and shopping.
What am I shopping for?
1. Wall sconces for my new bathroom.
2. The perfect shade of salmon pink to accent baby girl's room.
3.
A diaper bag that isn't boy-ish at all....and not overly girly- or overly baby-ish.
Update: DONE! Thanks, amazon.com. Whew....one thing off the list!
4. A new phone charger.
(see: anyone want a dog?)
5. A new bedding set. I'd love change our bedroom up a bit when we move into the new house.
6. Baby girl clothes. Tis the season to garage sale. I hit one on Thursday, and it was the
mother-load!
7. Material to re-cover a rocker that my sister-in-law is giving us.
8. Groceries. We're seriously low. I'm getting "
creative
" with meals.
This is not a good thing.
9. Cleaning. Just enough to ease my OCD husband's twitches. :)
(you think I jest...)
Anyway, what are you up to this weekend?
Let's answer some questions, shall we?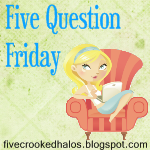 1. What do you keep a stock pile of?
Toliet paper. I seem to have this fear of running out. Every time I head to Costco, I get the super-mega huge-o pack. Apparently, I'm deathly afraid of chaffing.
2. If Ben & Jerry asked you to invent an ice cream, what would it be?
Hmmmm... I'm partial to chocolate ice cream.....and I'd mix in some amaretto flavoring....with some caramel swirl and pecans mixed in. MmMMMMMM.....
3. How do you blow off steam?
Don't judge me....I'm a yell-er. I yell, I get it out, and I move on. I understand that it doesn't make me more right, just more loud....but I need to get it out.
4. What would you do if you had an hour to yourself anywhere within a ten mile radius of your home...no kids, no hubby, just you?
Pedicure. I need one (again) badly. And baby girl doesn't like me giving them to myself anymore. :)
5. When you were 16, what was your curfew in the summertime?
My curfews always depended on the activities I was going to be doing that night. I believe that if I was out after 11pm, I had to have a pretty darn good excuse, but that didn't happen often- cause even back then, I wasn't much of a night owl.