1. Appearances are deceiving.
2. I have a trick up my sleeve.
3. :)
4. My to-do list (or better yet, my "get-to list") is no completed.
5. I started the 30 day Shred this week.
6. Ouch.
7. Ouch.
8. Really....really....ouch.
9. I have bug bites on the back of my arm.
10. And no where else.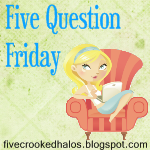 1. Do you think cursive writing is overrated? (Schools in Indiana have now voted to take teaching cursive writing out of their curriculum.)
No, I don't think it's overrated. I think it requires patience, and a new level of thinking at an early age to know how to read and write in cursive. Besides, how would anyone learn how to do a signature?!?!?
2. Do you still use a pocket calendar or notepad or do you keep your info on your smart phone?
I have no smart phone, iphone or Black Berry. I just got texting on my plan last year, and that was only because I needed to converse with car pool friends late at night/ early mornings. Now I can't live without it!
But I'm not a note pad person either.
I'm not at all type A, can you tell?
3. What 3 things would you save if your house was burning down? (family & pets are already safe)
Pictures, pictures, pictures. You can't get those back!
4. Country Mouse or City Mouse, err Person?
I like the city...for a visit. So, I'll go with country girl- as long as horses aren't involved. :)
5. If you could pick ANY reality show to go on, which would you pick?
I'd probably still do the Biggest Looser. Even the people who loose the game still win at weight loss.
Or I'd do Deal or No Deal. High pay offs for little skill. All you need to do is know ratios and basic logic.