1. My
last
wedding coordinator gig is this weekend.
2. It feels SO good to unload something from my
overstuffed
plate.
3. I told my husband today that it is an
utmost priority
that I get a nap on Sunday afternoon.
4. He laughed.
5. I'm not sure if that's a good sign, but I think
not?
6. I got a totally cute headband at Target a few weeks ago.
7. I didn't have the courage to wear it until yesterday.
8. I considered it "
trendy
."
9. I don't consider myself a "
trendy
" person.
10. I received a lot of compliments, so that made me feel
a tad
better. :)
OK! 5QF!!! If you'd like to play along, head on over to my friend's blog and join on in! Seriously, it's totally easy. Even a monkey's uncle could to this.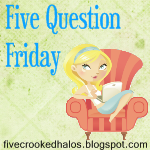 1
. Who is the better cook, you or your spouse?
Me. D could be good, if he put his mind to it...and didn't multi task so much. When I just had A, Dave was cooking me dinners for the first week. I asked him for a grilled cheese sandwich. When it came, it was charred on one side and totally raw bread on the other. (sigh). Points for effort, though.
2.
How often do you talk to your mom?
Um, once, twice, three times a week...depends on what's going on in our lives and if we need to talk something out. Fortunately, she lives close enough that the boys and I get out to see her 3-4 times a month on Saturdays. Love that.
3.
Are you adventurous in the kitchen or stick to the recipe?
If its the first time I'm doing a recipe, I will stick to it. Then I'll tweek a spice or something here...estimate something else there...My ultimate goal is to cook like Rachael Ray. She measures things in "splashes" "palm fulls" and "dashes." I think that's so awesome!
4.
Is your second toe longer than your big toe?
No. And I didn't even know until my friend had a baby that the "mortimer toe" is a dominate gene. Things you learn....
5.
Do you dress up for Halloween? (Bonus question: What will you be this year?)
I dress up as a mom. :) And for kicks this year, I'm going to dress up as a mom-who-has-it-all-together. Instead of the frazzled-crazy-mom that I've been dressing up as for the past 364 days. :)