There are LESS than seven weeks until Christmas.
This does not put me into a bevy of shopping stress....it gives me something to look forward to. It's almost as if the rest of the year exists to provide anticipation for the season. Here's my list of anticipatory activities for the next seven weeks:
1. Food. From the sweet potato dish (w/ marshmallows) on Thanksgiving to the crab legs on Christmas Day...oh my, the food is just so good. And now that I've found a fantastic pumpkin pie recipe with a raw nut crust....well, that's just perfection.
2. The people I dine with. Family. Friends. I love that feeling of togetherness.
3. Christmas carols. Note: This does NOT include the following songs- Feliz Navidad, Grandma got run over by a Reindeer, and All I want for Christmas is my two front teeth. However, anything sung by Michael Buble is tops in my ears.
4. Breakfast Birthday party. Every Christmas morning, the boys open their stockings, and before we do family gifts, we have a breakfast birthday party complete with gf coffee cake, 3 candles and a birthday ballad for little baby Jesus. This is my way of counter-acting the crazy commercial-ness of the holiday.
5. Giving gifts. I must admit....even though the whole commercial part of the holiday irritates me, I am a gift giver. Always have been. It's a love language. I've been told I'm a great gift giver. I love thinking about my recipient and finding the perfect gift to give. I can honestly say that I love gift giving more than the receiving.
6. Decorating. Yes, I'm looking forward to it. I love making my house feel all cozy and festive. Now, we're all under one roof. C is 4 this year, and wants to help, and knows to stay away from the breakables. There's a new found independence that goes with having older kids, and I'm loving it! And everything's under one roof....have I mentioned it's all under one roof?!?!?!
7. Shopping with Melody. We did this last year, and I totally enjoyed the evening. I'm hoping to make this a tradition?!?!? What say you, Mel?
8. Christmas cards. It's like catching up on Facebook, but for the technologically challenged, and with pretty pictures. Love it.
9. Christmas Break. Ask me two days in, and I may be singing a different tune. However, I'm looking forward to lazy mornings, and spending some extra time with my boys.
10. Family time. Worthy of saying it again. It seems like we just can't find enough time during the year to make each other priorities all the time. (hey...gotta work sometime). But it's great to see them and really make a concentrated effort to enjoy each other's company.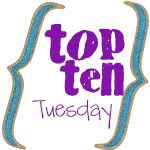 What things are you looking forward to this holiday season?