1. I got 2 "atta-girls" this week.
2. One from my boss.
3. The other from my nutrutionist.
4. It's been a great week!
5. D. and I are getting anxious to get the next phase of the house underway.
6. Money falls short every time we try to make it happen with the budget.
7. It's freezing here in Michigan.
8. I'm (im)patiently waiting for our Flat Stanley's to come back.
9. We made two just in case people are lagging in getting back to us.
10. They're both lagging. (sigh)
OK!!! FIVE QUESTION FRIDAY!!!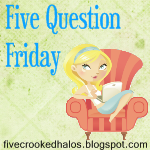 1. Where did you meet your spouse and did you instantly know it was love?
I first saw him at a wedding. He was a groomsman, and I was an attendee with some friends of a guy I was seeing at the time. There were ten groomsmen in that wedding, only TWO were hot. One was wearing a wedding ring. D. was the
other
one. :) He tells me that he noticed me that night too, but we never talked.
We met officially four months later at a country bar. I knew he was special, but didn't realize just
how
special until a month later when the "L-Word" started popping out between the two of us. :)
2. What is your favorite room in your house?
My new living room. I love the colors. I love how cozy it feels. I love that (other than window treatments), its completely done.
3. Can you wiggle your ears?
Nope. But I can flare my nostrils with the best of them. :)
4. What is your evening ritual?
The boys are in bed by 7:30. After that, D and I usually go to our separate corners of the house to finish up on work. Then, we'll meet back up for a couch date to watch TV for the last 30-60 minutes of the night before turning in.
5. How many hours of sleep do you need to function?
Minimum of 6. Any more than 9, and I have a wierd sleep-hangover thing the next day.
Have a great weekend!!!