1. I'm living in a pressure cooker.
2. And I've lost my blogging mojo.
3. I have a date with A. this weekend.
4. I'm hoping it will help ease his "behaviors" as of late.
5. I have paint in my hair.
6. I got D's birthday present for FREE.
7. His birthday is on Monday.
8. He's hot.
9. I need to clean out my car.
10. Christmas decorations come out this weekend!
Ok, some 5QF...head on over to
Mama M's
if you want to play along.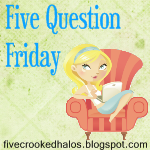 1. What Christmas song do you loathe?
Hands down, Feliz Navidad. You hear it once, and it sticks in your head forever and ever.
Not to mention one loooonnnng trip to Wisconsin with my grandma in the back seat with me singing it over and over. I think this was the beginning of her senility. I sang along...trying to join in on the insanity before it overthrew me. No luck.
2. Do you and your significant other cuddle at night or sleep on opposite sides of the bed?
Oh....there's no touching. Unless, of course... (well, TMI). No, D cocoons himself in, and I have pillows on all sides of me - thanks to pregnancy for getting me used to them, and now I can't sleep without them.
3. Have you ever had surgery?
Yes, I had a tonsilectomy and adnoidectomy 2 days after Christmas in 4th grade.
And I had a DNC in 2001.
4. When do you typically have your holiday shopping done?
I start the day after Christmas. I don't like crowds, and I'm really a stickler on the holiday budget. So, I like to be mostly done by now. Which, I am. Except for the kid name excahnge on D's side of the family and a few little things for my mom and dad. Otherwise, I'm going to sit back and enjoy this holiday season.
5. If money were not an issue (and you HAD to pick something), what would your ultimate luxury item be?
The best camera equipment money could buy - and it would be a package deal with a studio and editing software...oh, and printing capabilities too. :)