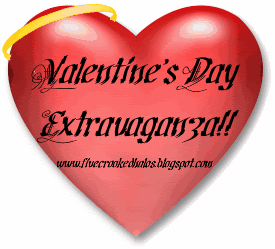 We had been dating a little less than a year (9 months to be exact, but who's counting...) when Dave started asking about what kind of rings I liked.
I found my ring at a friend of ours who was starting her own jewelry business. I picked out the loose stone, and the setting. She wrote it up and put her name and number on it.
I returned home from the trip, and handed him the paper saying, "When you're ready, just call Pam."
Now I know, he called her 4 days later. This was August.
In September, he said, "Since we both like fall so much, we should find out when peak color is and go on a weekend trip."
We did research and found out that peak color in the U.P. is the first week of October. Also the same weekend as my birthday. Perfect timing.
The trip was set.
I thought perhaps he could ask me to marry him, but my father had left for our property up north (very north) a week prior. I knew there was no way Dave would ask me to marry him without going through the proper channels first. So, I didn't get my hopes up.
Friday night (my birthday) we got up to the U.P. very late since we had both worked a full day that day- we started out late. It's like a 6 hour drive. We ate a quick dinner and crashed in our beds.
No ring.
Saturday (my father's birthday) we had a full day planned.
First we went up to Lighthouse Point. It's off of Lake Superior.
Whoa, was is chilly.
We went to the Shipwreck museum and walked along the beach (freezing my bootie off...but it was still pretty).
I kept thinking, now's a good time to do it, Dave.
We stayed there for about 2 hours and left.
No ring.
Then we drove another hour to Taquamenon Falls. There's two portions to the falls: Lower and Upper.
We started at the Lower falls. There's a little picnic pavillion there. We had packed a lunch, so we picnic'ed. It was a perfect setting...we were all alone....
We dined for about 30 minutes.
No ring.
Then we hiked around a while, found some water to watch.
There's a brewery there...we sampled some of their hard earned hops. (pun intended)
Hiked some more. Found a bathroom since the hops were talking.
Left the Lower falls.
No ring.
Then, to the Upper Falls.
It's beautiful.
Little hike. Totally worth it.
We got to the observation deck.
A large family asked me to take a picture of them on the deck.
I did...with about 15 of their cameras.
We stood there talking about lots of stuff.
Watching the water.
Holding hands.
Now's a perfect time, Dave...do it now....
We left.
No ring.
We headed back to our place and I had realized that this probably wasn't going to be my engagement weekend. Although disappointed, I was strangely ok. I knew that I would marry Dave someday. And, his birthday, the anniversary of our first date, Thanksgiving and Christmas were all right around the corner. I knew eventually the ring would come.
By the time we drove back to our B&B, the dinner hour was upon us. We were going to walk to find a diner and pulled in to realize that a ship was heading straight for the Soo Loc's. We both wanted to see that, so we decided to walk there first.
Dave told me that he had to use the bathroom, and wanted to run up to the room real quick.
I followed him (it was a windy day, and I could use a combing and make up refreshing).
He was in the bathroom....for a long time.
I almost wondered if I had poisoned him by putting mayonnaise on his sandwich at lunch.
Long time...waiting.
He comes out and hugs me.
Says, "Sandy (insert maiden name here), I have a question for you."
(I seriously thought he was going to ask me where I wanted to eat)
Until he gets down on his knee, looks up at me w/ shaking hand and asks
"Will you marry me?"
"YES!" I said
And then we walked to the Soo Locks on the way to dinner. I was **frigid** there. I refused to wear my mitten on my left hand because I didn't want to cover up my ring. By the end of the night, that hand was purple.
Little did I realize that he was carrying the ring with him the ENTIRE day looking for the perfect spot (read: nerve) to ask me to marry him.
See the picture below? (taken at one of the falls)
Yeah, it's in his left chest pocket. You can see part of the outline of the box.
Seriously, it was right under my nose!!!
And that's how Dave proposed.
By the way, Dave did get a hold of my dad to ask my hand in marriage before he popped the question. 'Cause he's just a good guy like that. :)