Well, this morning started out with a bang.
We still have a baby monitor in the boys' room- since it's 2 floors away. And I'm nosy when they have friends over. :) So, at 6:19 this morning, I hear Dave talking sternly to the boys up there. They left their room a mess, and as they were cleaning it this morning, Dave notices a STASH of candy wrappers shoved under their bed. ALL the parade candy from July 4th that we had hidden in the pantry was up there (how? I don't know!), eaten, and all the wrappers thrown under the bed.
Then I hear Dave utter words that made me cringe.
"no screens at all today."
No TV, No wii, No netflix, No computer, No DS. Nada.
Now, I'll be the first to admit,
I've
grown quite dependent on those screens as means of keeping the boys quiet while I work.
(and sometimes other times when I need a break too)
Babysitters cost between $8-10 an hour, and I work three days a week! Yes, today is a work day....
jam packed
, as a matter of fact. I have no sitter scheduled - since she's in South Carolina....it's kinda hard to call her last minute.
I'm working on a chore list for the boys to do today...in addition to some fun activities I've been saving for fun days- but it's also raining out here. I'm hoping it will clear up sooner or later. And I'm thinking I may* need Starbucks. *
(MAY?!?!? really, come on, Sandy....it's a necessity today!)
Oh, in addition, drywall hangers are here today -
which is a TOTAL YAY!
- BUT, they're loud, their tools are loud, their radio is loud...and there's nothing separating us except a thin piece of plastic.
At least they're playing good music.
In other words....
pray for me
.
If I'm not sucking my thumb in a corner by 3pm today, I'll consider it a success.
Hold me.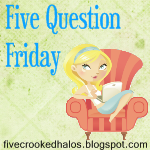 1. What is the funniest thing you saw on Facebook/twitter this week?
It was a status update from my husband's cousin. Her husband told their boys that he would pay them each $10 to pull the weeds in a flower bed. Yesterday, she was at the zoo with the boys, and one of them saw a necklace he HAD to have. He loudly declared that he'd give his mom all his WEED MONEY for the necklace. People turned heads...and she quickly had to explain what that meant to on-lookers.
I laughed so hard!
2. What is your favorite Olympic event?
I have to admit I really like watching gymnastics. The amount of athleticism to do those tricks is just astounding. Those girls have made it their life's work to get there, and I always pull for them.
I also think this summer we'll be watching some swimming. The boys just finished a 3-day round of lessons, and I think it would be neat for them to see the professional level of swimming - so they understand what swimming is really all about. (You know...and not drowning too....)
3. Do your kids to chores around the house? If so, what are they and how old are the children? Do they get paid for them?
You bet they do! We have our boys on a Commission system, since Dave and I are big fans of Dave Ramsey. A. is 8 and C. will be 5 next month. They can choose whether or not they do these chores...but if they don't do them, they don't get paid. It really comes in handy when we're at Meijer, and they're begging for a toy. I just say, "How much money to you have? Well, that's not enough for a toy....you should go home and look at the sheet to see how you can earn more." I love that. :)
Here's a breakdown:
Making their bed (.05 a day)
Ally job - feeding and putting her outside after she eats- (.05 a day)
Cleaning up toys without being asked (.10 a day)
Cleaning up their clothes without being asked (.05 a day)
Folding towels and washcloths and putting them away (.50)
Dad job - this usually includes helping him clean out his van or sweep the garage (.50)
Mom job- this usually includes sweeping the floors, cleaning the toilets, etc. (.50)
We have the clean up things without being asking in there because we want that to become something they do without a fight- without being asked, and we want to put a positive spin on it right away. Probably next year, we'll move that into an unpaid expectation. Other unpaid expectations- cleaning up after yourself, helping me set and clear the table, and other misc. things we ask them to do.
4. If you get bad service/food do you complain or keep quiet?
This depends. I understand if a restaurant is busy and the server is overworked, etc. Then I'd complain to the manager about not having enough people on staff for a busy night. If the server is rude, yeah, I'll complain. Or....you know, leave a crappy tip- direct consequence of my having to deal with them.
Otherwise, sometimes each person needs a little grace. If they're forgetful, etc, it's just nice to realize we're all in it together and get over yourself. Just my opinion.
5. If you could pick ONE frivolous item for your home, what would it be? (massive room sized closet? swimming pool? greenhouse? etc...)
Come on, just ONE?!?!?!?
I'd have to go with a tricked out back yard. I love being out there, but I'm not a fan of bugs and allergies. When we are out there, Dave and I love having a little fire in our fire pit and just sit out there talking until my butt falls asleep in the folding chair or until the bats start to creep me out. (seriously, though...they keep the bugs down...so we co-exist peacefully...most of the time).
So, here's some of my backyard inspiration from Pintrest.