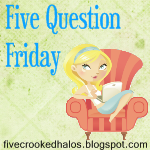 Ok friends, I love these questions for this week! And since I have exactly 3 hours left to participate, I'd better get to it!
1. Are you a Black Friday shopper?
YES! Well, I used to be...before kids. Actually, I try hard to stay home, but end up venturing out anyway. But, I haven't been out at 4 am since I was 38 weeks pregnant with my first (he was born on Dec. 12). Here's the thing for me- I am a gift giver. It's one of my love languages. (yeah, took me about 32 years to actually realize that!). I have a VERY limited Christmas budget. So, when something I could NEVER afford is more than within my price range on Black Friday...well, you betcha I'm up and at 'em!
2. What was your favorite childhood toy?
(Think Easy Bake Oven, Cabbage Patch Kid, Shrinky Dinks, etc.) Ok, ok...I'd have to say my Cabbage Patch Kid. I got her when they were super popular. Her name was Leonora Cicily. Who the heck named those things?
3. Favorite Christmas movie?
I have two on constant rotation throughout the holidays (also depends on if the kids are awake!) The Christmas Story and National Lampoon's Christmas Vacation. I need to bust those puppies out next week! I can't wait!
4. What is the "must have" item on your Christmas list this year?
let's see, flooring, paint, furniture, carpeting, plumbing, kitchen sink....
No, really-
5. Do you go all out with decorations or do you keep it simple and classy?
I used to go all out. I have a lot of Christmas decorations in storage in the rafters. I've found a style of decoration that I love (can't think of it at the moment...perhaps I don't love them as much as I thought?) I think it's called Willie Rae collection. I'll take pics when they come out. But with kids in the house, not sure if they're don the shelves this year or not. Time will tell! Heck, I'm not even sure where we'll put the Christmas tree this year. Where did we put it last year? Yeah...look
here
.