yo Yo YO!
I have about a bazillion blog posts swirling around in my head right now, but none of them are ready to be nailed down.
There's a LOT of changes going on in my crazy little world...
...I need to fill y'all in, but in the meantime I only have time for some questions: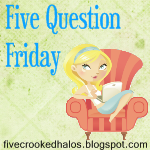 1.
Do you have a doppelgänger?
My friend, Erika, said she saw my doppelganger at the mall a few years ago. She said it was uncanny- exactly me except for short DARK hair. Since then, she's been trying to get me to color it REALLY dark and cut it short short short.
I'm going to pass on that. :)
2.
Do you keep your car cleaned up?
Nope.
I clean it thoroughly twice a year. Spring and Fall. It's really overdue, but with everything going on, it's going to have to wait a week or two.
Otherwise, I have a few rules in place for the kiddos to try to keep it from becoming a 'Hoarders' episode on wheels...but sometimes you just can't help it.
3.
What is a current fashion that drives you crazy?
Jeggings. I really dislike those. They really don't look good on anybody. Even toothpick models sometimes can't pull them off. Not cute. At all. I don't even like the word, "jeggings." Ugh.
How about those one piece outfits? You know, for women?!?!? tops and bottoms all in one?!?!? Really???? Those went out in the 80's and need to stay out. Dead. gone. ugh. But...you know, if you want to totally disrobe to use the restroom, I guess that's your prerogative.
Otherwise, I really don't consider myself to be qualified for "fashion police." I know that I like, and I'm not sure if it's current fashion or not, but I'm totally ok with that. #individualityrocks
4. H
ow often do you go grocery shopping?
Too often. :) I do one HUGE shop at Costco and one HUGE shop at Aldi at the beginning of every month. This is for our staples and junk food. (My man likes his chips). Then I head to the local farmer's markets (whoot for summer!) and local stores for fresh produce and to fill in the holes on our menu- that I do once a week tops.
5. What has been the best surprise of your life?
This little gal right here:
Oh, how I love her.